When everybody is online and trying to get noticed, it might seem hard to stand out. But it's really not, and if you spend some time (minutes, really) every day on improving your online visibility, you can be seen by more potential clients and extend your reach.
Very few small businesses have the time or resources to create elaborate sales funnels and has a whole team working on creating a great marketing strategy.
You've probably read tens of articles that are so riddled with technicalities that you just want to slam it closed and run the other way.
That's why I wanted to write up a simple and fast strategy specifically meant for a time-crunched small business owner, who needs to prove their trustworthiness online.
This checklist is divided into four main categories:
Statistics Basics
Website Visibility
Technical Details
Ease of use
Important Small Business Website Statistics
Do you know how many people visit your website per week? If you're not sure, just take a guess.
I once had a client who estimated they probably have around 1,000 visitors per month – which, for a small business, is a decent amount – but upon checking real data, the number was about 100 times smaller.
Why is knowing the number of visitors significant? Knowing where you stand can help you improve your online visibility and find particular pain points.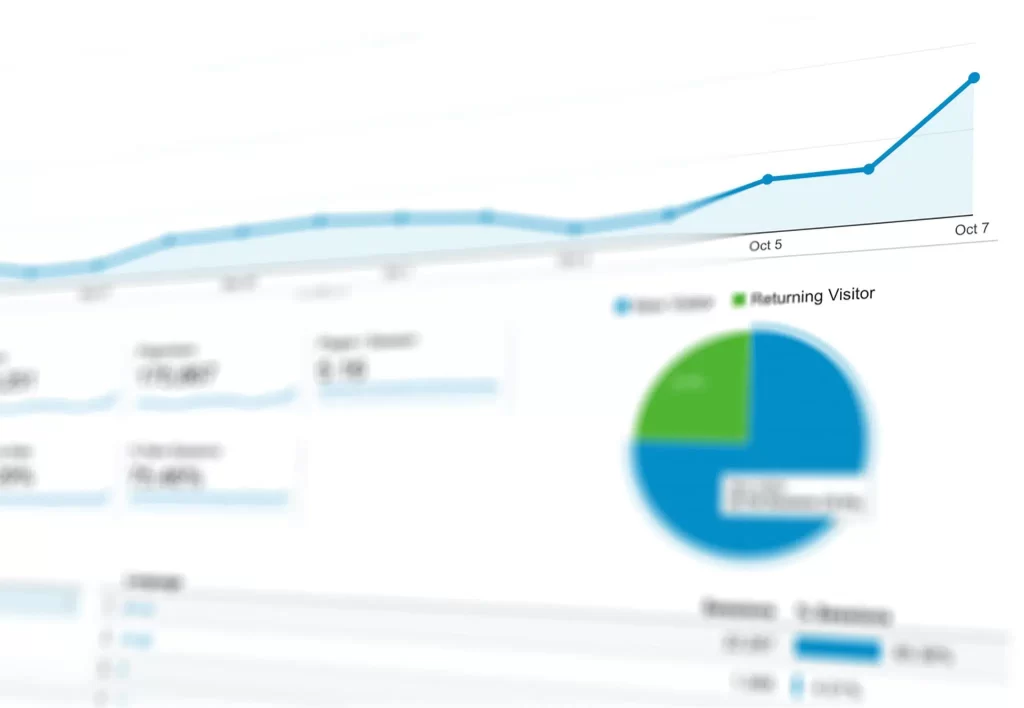 One of the best tools for keeping track of your website's stats is Google Analytics.
Don't have it on your website?
It can take a bit of poking around if you're doing it yourself, or you can ask your website designer to do it for you. If your website is built in WordPress, you're in luck since installing the Analytics tracking code is straightforward – here's a good tutorial on signing up for Google Analytics and a tutorial on connecting your website.
Important statistics in Analytics
Users
Shows the number of people who have visited your website.
Questions to answer:
Do you advertise your website (not only paid advertising — do you show off your website on your documents, signs, business cards, etc.)?
Do you have a social media account for your business?
Do you have relevant keywords and useful content on your site?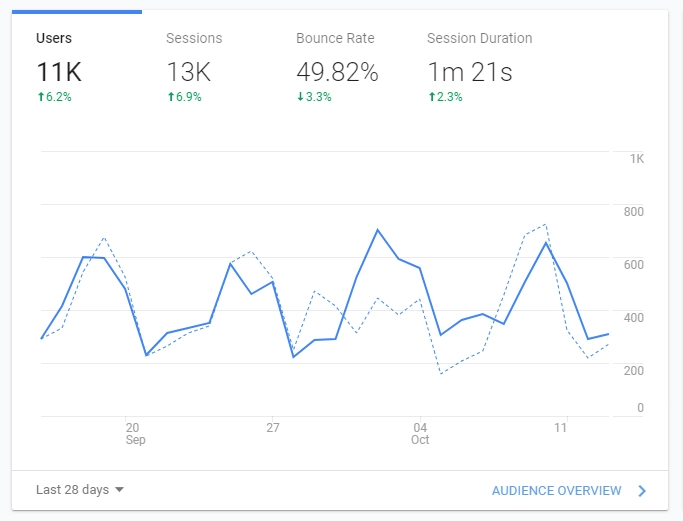 Bounce rate
This is the % of people who only visited one page then left your site.
Questions to answer:
Is your content relevant, so people stay on your site for more than just a few seconds?
Do you provide a path for next steps on every page?
Top devices
How many people use your website from their phone vs. desktop?
Questions to answer:
Is your website mobile-friendly?
Check your most popular device type and optimize your website to be convenient to use for it
Keep in mind that different types of businesses have different preferred devices. For example, most restaurant website visitors are now on mobile.
For B2B service providers, most visitors are on desktops.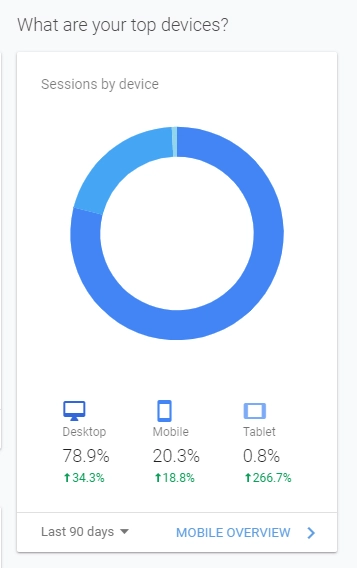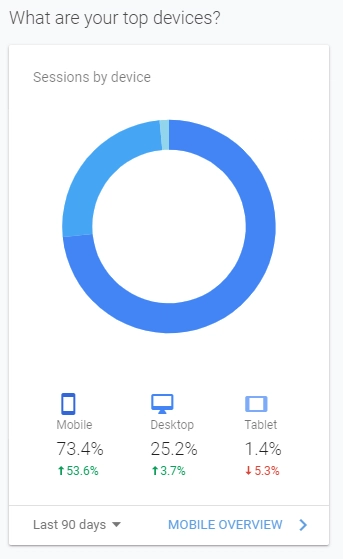 Traffic channels
Where are you visitors coming from?
Questions to answer:
What traffic channel is working well?
Where should you invest in more?
Is there any channel that is not performing well?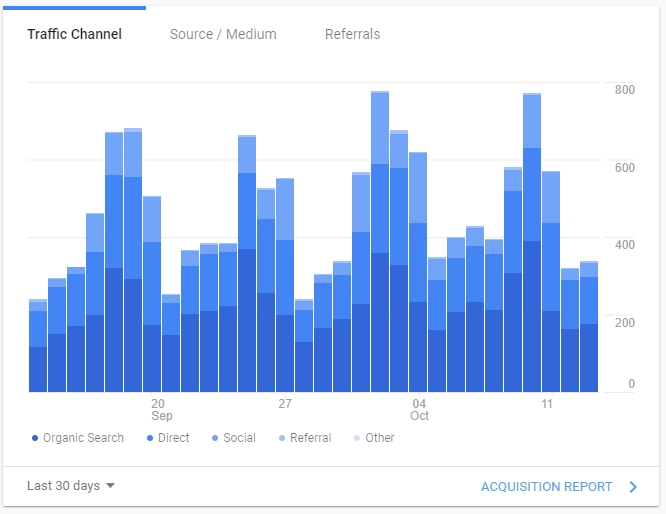 Breakdown of all traffic channels:
Organic Search
People that found your site on search engines, like Google or Bing


Direct
People who type in your URL directly in their browser – usually people who already know and remember you


Social
People who click on your website from social media accounts, such as on Facebook, Yelp, and LinkedIn


Referral
People who clicked on your website link from another website (personal blogs, review sites, and more)


Other
Anything else Google doesn't know how to define
How easy is it to find your business online? Are the pages even showing up on Google?
To check, open Google, and type this in: site: example.com, replacing the example with your domain name. If your website's pages show up, it is indexed by Google and searchable.
Does your business have social media accounts on Facebook/Yelp and LinkedIn? It's great if you do, but make sure to update your profile – upload your logo, some images of your team or past projects, make your opening hours, phone number, and address visible.
Add any relevant information (such as opening times through Covid-19 or holidays) to show clients you are active.
If you want to go the extra mile, create posts with value, such as tutorials, interviews with other professionals, and answer questions your clients have.
Make sure to add your social media icons to your website and email signature to simplify connecting with you.
Besides social media, being present in local directories can be very useful. Getting featured in local directories is essential because those sites will link to your website, increasing the ranking (since Google wants to see your website being linked by others, making it look more reputable). 
It will also send people who use unconventional search methods your way.
To name some local directories: 
Yelp
Bing places for Business
Apple Maps, and others.
The most important of local directories is Google My Business – it's the little knowledge panel you get when searching for a business online, and is useful in increasing your visibility. Make sure to fill out your account as much as possible, add images, and ask your clients for reviews.
Get started with a free Google My Business account.
Does your website load fast, or does it take some seconds to open up? Having a slow website can hurt your Search Engine rankings as well as your credibility.
To speed up the site, you could optimize the resources (such as compress images, videos, and code) or move to a faster web server.
A great and free speed testing website is Pingdom. Just type in your website and the physically closest server location to you.
Ideally, your website's load time should be under 2 seconds.
A 2-second delay in website load time means up to 87% of people leave the site immediately.

Does your website include some important keywords that people are looking for? For example, if your company builds pools, you should make sure your website includes keywords like "pool builders in Chicago," "swimming pool contractors," or "what is the cost of an inground pool?"
Adding some keywords (specifically in the search engine metadata) and posting relevant questions and answers can do wonders for your search engine presence. 
You can add metadata through your website – whether it's coded or built using a specific platform. Most modern platforms (WordPress, Weebly, Wix, SquareSpace, etc.) offer a convenient way to edit your metadata.

If your website looks very outdated or messy, your bounce rate is going to increase unless you're offering a very niche service.
After the users open your website, you don't want them to gasp in horror and quickly X out. You want to make their stay pleasant and enjoyable, and most importantly – answer their questions.
This part is difficult because you need to put yourself in your client's shoes. As the business owner, you are happy to read about your company's history and show off all received awards. But do your potential clients really care?
The short answer is: no, they don't. If someone ends up on your site, the only thing they want you to do is solve their problem, and you need to be able to ease the client's mind by showing how you can help.
Answer these three questions at the top of your website (anything people see on the screen before scrolling down):
What do you do?
Protek-IT's example: Managed IT Services


How does it benefit me?
"Our Chicago IT service plans offer all IT Support to protect your devices and help employees stay on track."


How do I get started?
Get a free quote
Keep it simple and straight to the point. Besides the three main points, also include these answers:
What problem can you solve for your client?
Why should they choose you instead of competitors?
Can you vouch for your expertise (with reviews or awards)?
As much as it hurts, no first-time visitor is interested in your personal story (yet).
You can get there once you've already established a connection, and they want to know more about you.
Does your website menu make sense? Look at the menu with an outsider's eyes and ask yourself: is it straightforward and easy to navigate? Do I know what my next step should be?
Or is the menu cluttered with irrelevant pages?
Some pages that definitely shouldn't take up your menu space are:
Testimonials
Careers
Home (instead of using the logo)
Resources
The simpler you keep it, the easier it is to use. Your menu should include your services, something about the company, and contact information. Everything else can be tucked away in the footer or spread on the pages.
For a small business, visibility is everything. Don't make finding yourself online difficult – make sure you are searchable and look reputable online, as well.