Scheduling appointments has become a routine task for many small businesses and nonprofit organizations. From salespeople orchestrating virtual meetings to software companies showcasing live demos and telehealth therapists conducting video sessions, professionals across various fields rely on efficient appointment management.
That's why the latest addition to Microsoft Teams is causing a buzz! Virtual Appointments, a recently integrated feature, introduces a new meeting style explicitly designed to cater to customer engagements. If you're already harnessing the power of Teams alongside another online appointment app, get ready for an unparalleled, streamlined experience.
What are Virtual Appointments in Teams?
Microsoft Teams has just become the hub for your customer interactions with the addition of Virtual Appointments. This new feature seamlessly integrates scheduling, management, and execution, providing a comprehensive solution for changing B2C meetings.
By combining simple scheduling with dynamic video conferencing, Virtual Appointments creates an unparalleled user experience. Forget the hassle of client Microsoft account creation—anyone armed with a simple link can join your virtual appointment, eliminating unnecessary barriers and ensuring easy accessibility.
By leveraging Microsoft's powerful scheduling app, Bookings, the integration with Teams ensures a seamless experience. Certain features are available across Microsoft 365 plans, while others require a premium plan. Need help to determine if you have access? Contact us at 773-907-0600, and we will help figure it out.
Start experiencing the convenience and efficiency of Virtual Appointments for your customer engagements today.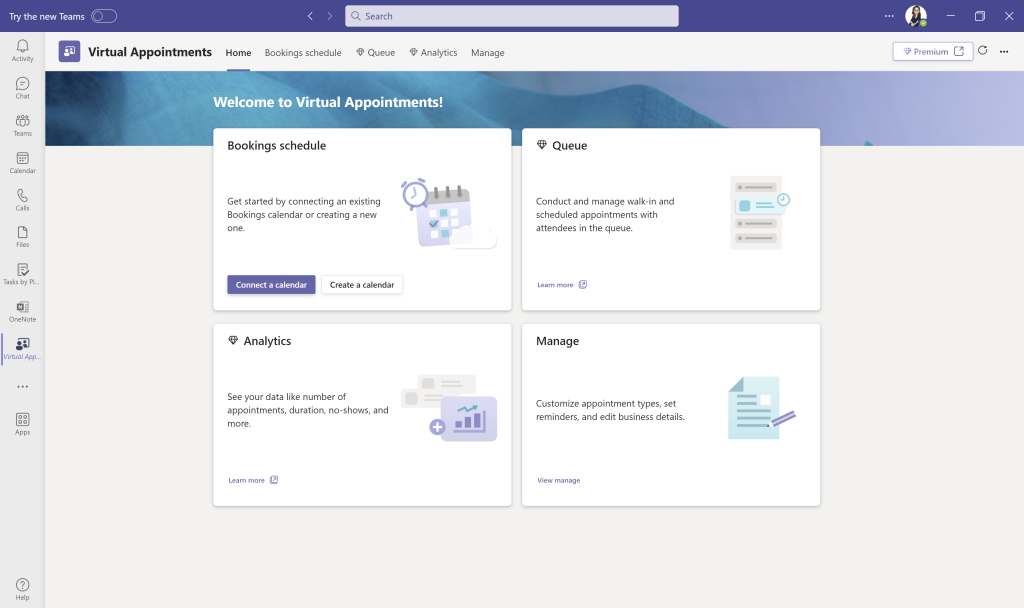 Teams Virtual Appointments Features
Manage Scheduled Appointments
Streamline your workflow with a single, comprehensive view of all your scheduled appointments. Easily handle cancellations and time changes, empowering you to stay organized and in control.
Personalize Confirmations & Reminders
Deliver a personal touch to your customer experience by sending customized messages via SMS or email. Harness the power of automation to save time, ensuring each customer receives confirmation and timely reminders. With automated appointment reminders, you can just focus on delivering exceptional service.
Customize Your Waiting Room
Infuse your virtual meetings with your brand identity by customizing the Teams waiting room. Showcase your business through unique themes and logos, leaving an impression on your attendees even before the meeting. Leverage the waiting room chat functionality to communicate with participants while you wrap up a previous appointment, ensuring a smooth and attentive transition.
Seamless Meeting Follow-Ups
Streamline your post-appointment process by sending meeting follow-ups directly from the Virtual Appointments platform. Reduce the time it takes to provide promised follow-up information while effortlessly maintaining a communication trail for each client.
Gain Insights with Organization & Department Analytics
Unlock premium analytics to gauge the effectiveness of your appointments. Track and analyze the impact of your interactions and gain valuable insights into B2C virtual appointments across all departments. With reporting capabilities, you can make data-driven decisions to improve your customer engagement strategies.
Getting Started with Virtual Appointments
To leverage the potential of Virtual Appointments within Teams, administrators must first configure a few essential settings. PS! Bookings admin access is required to access these features.
In the Teams Virtual Appointments app, select "Create a calendar" from the Home tab to set up your personalized calendar. For larger organizations, the option to create multiple calendars for different departments is also available.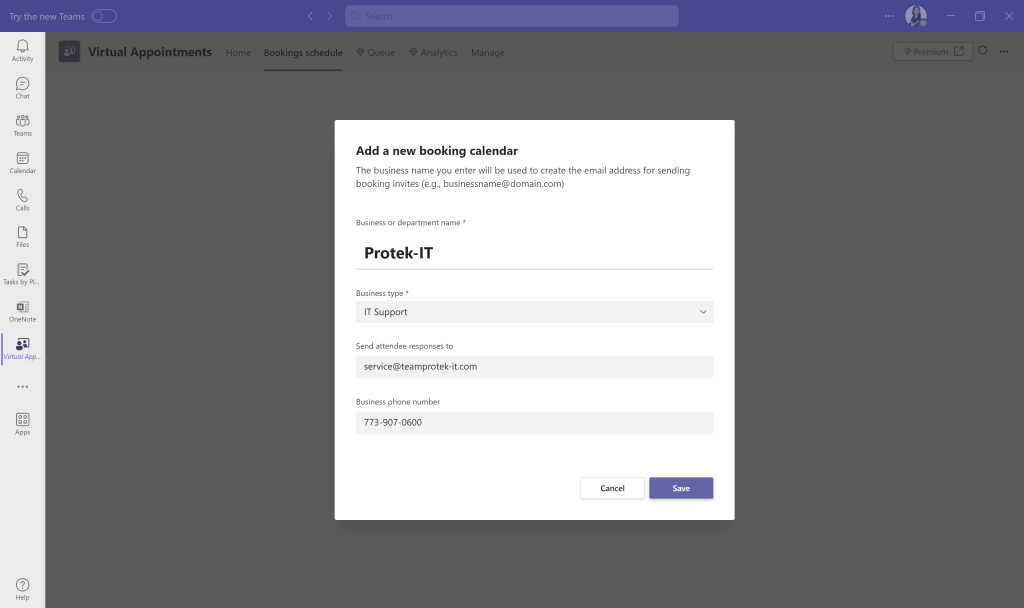 Add Dedicated Staff Members
Easily add up to 100 staff members to ensure smooth appointment management. Assign specific roles to your team and seamlessly view their availability across Teams and Outlook. And don't forget to enjoy the convenience of calendar synchronization across your integrated Microsoft 365 platform!
Tailor your appointment types to match your unique business needs. Choose between:
Scheduled appointments, where you set the date and time and have it automatically added to the email confirmation, or
On-demand appointments (Teams Premium) allowing customers to select a suitable time from your booking calendar.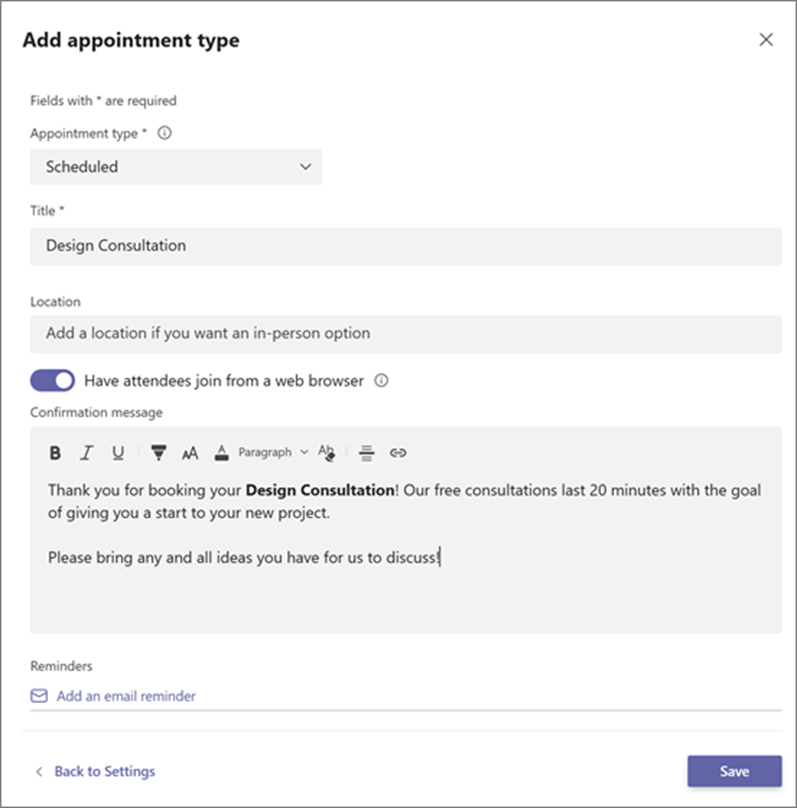 Verify that your Teams plan supports SMS notifications. This pivotal feature is available with compatible plans, enabling you to harness the full potential of text-based communication.
Once you have the appropriate plan, configure SMS notifications within Teams. Customize the settings to facilitate the smooth delivery of appointment confirmations and reminders through text messages, optimizing your communication process.
PS! To receive SMS notifications, attendees must have a valid U.S., Canadian, or U.K. phone number.
Link Forms to simplify client Data Collection
Improve your client experience by linking up to four cloud-based forms through Virtual Appointments. By connecting your preferred Microsoft Forms, you can quickly collect essential information from your clients, allowing more insight into their experience.
Publish your Booking Page
Publish your booking page through the user-friendly "Manage tab" within Virtual Appointments to allow clients to book on-demand. Simply enable the "Publish booking page" option to give your clients a hassle-free booking experience.
Get help using your Microsoft 365 Tools More Efficiently
Are you fully utilizing the capabilities of Microsoft 365? Many organizations miss out on valuable features, reducing productivity and increasing unnecessary expenditure on redundant applications.
Unlock the potential of your Microsoft 365 tools and maximize your business efficiency with the PRO's help. Reach out to us HERE to schedule a meeting and receive comprehensive guidance on leveraging the full power of your Microsoft 365 suite.