Are you part of thousands of successful small businesses and nonprofits using Microsoft 365 for your organization?
We know that some hidden gems within Microsoft 365 can go unnoticed, leaving you unaware of their potential. Take Microsoft Forms, for example. This versatile tool for online surveys and form-building comes bundled for free with your Microsoft 365 subscription.
The intuitive interface of Microsoft Forms and the seamless integration within the Microsoft 365 ecosystem make feedback collection a breeze and allow you to make informed, data-driven decisions.
Unleash the true power of Microsoft Forms within your Microsoft 365 subscription. Take advantage of this chance to enhance your organization's efficiency and success.
Microsoft Forms: Your All-in-One Survey and Quiz Creator
Microsoft Forms is a convenient drag-and-drop solution for crafting captivating forms, quizzes, and surveys. Its user-friendly interface helps you collect valuable insights by sharing surveys via simple links. Plus, recipients can conveniently fill out these forms from any device, ensuring a seamless experience for everyone involved.
Once the survey responses start pouring in, Microsoft Forms swiftly compiles the results, providing access to beautifully charted, visual data at your fingertips. If you want to dig deeper into your data, you can export the collected responses to Excel, allowing you to delve into the finer details easily.
Say goodbye to the days of clunky survey tools and hello to a world of simplicity and efficiency. Microsoft Forms empowers you to create, distribute, and analyze surveys like a PRO.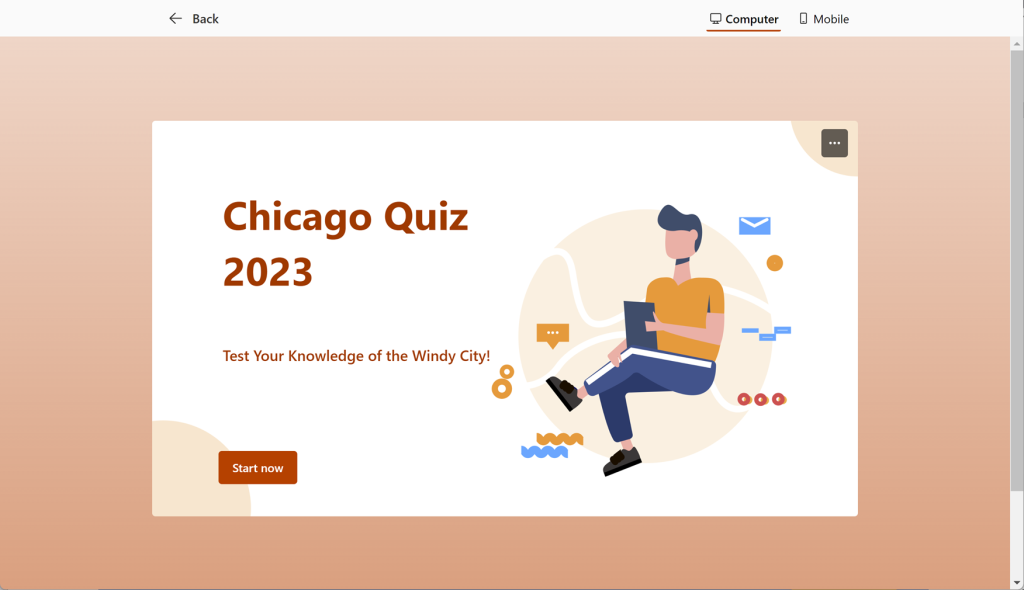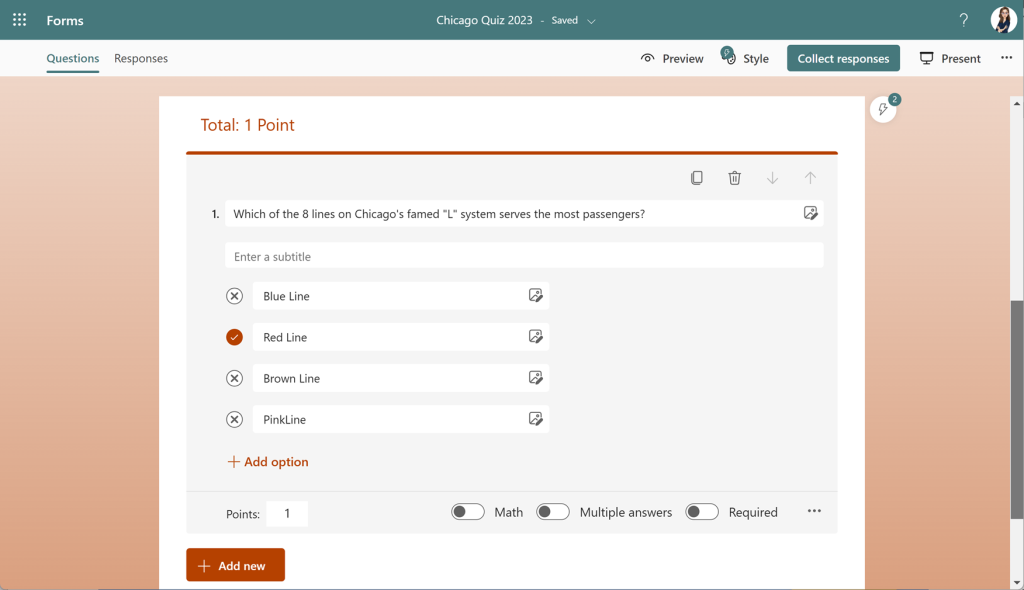 Getting Started in Microsoft Forms
Visit Forms.office.com and log into your Microsoft account
Choose "New Form" or "New Quiz" from the top menu
OR you can choose to explore the built-in templates
Click "Add New" to add a new form field. You can choose from the following field types:

Choice (i.e., multiple-choice question)
Text
Rating
Date
Ranking
Likert (a scale that records attitudes/opinions about a topic)
Net Promoter Score® (a scale from "not likely" to "extremely likely")
Section (separator that can include a title and image)

Type in your questions
Once finished, click "Send" at the top. You can distribute the survey using the following options:

Send a link to the web form
Email directly from the Forms app
Use a QR code
Embed the form on a web page
Share via Facebook or Twitter

Once you've received responses, you can view them in the "Responses" tab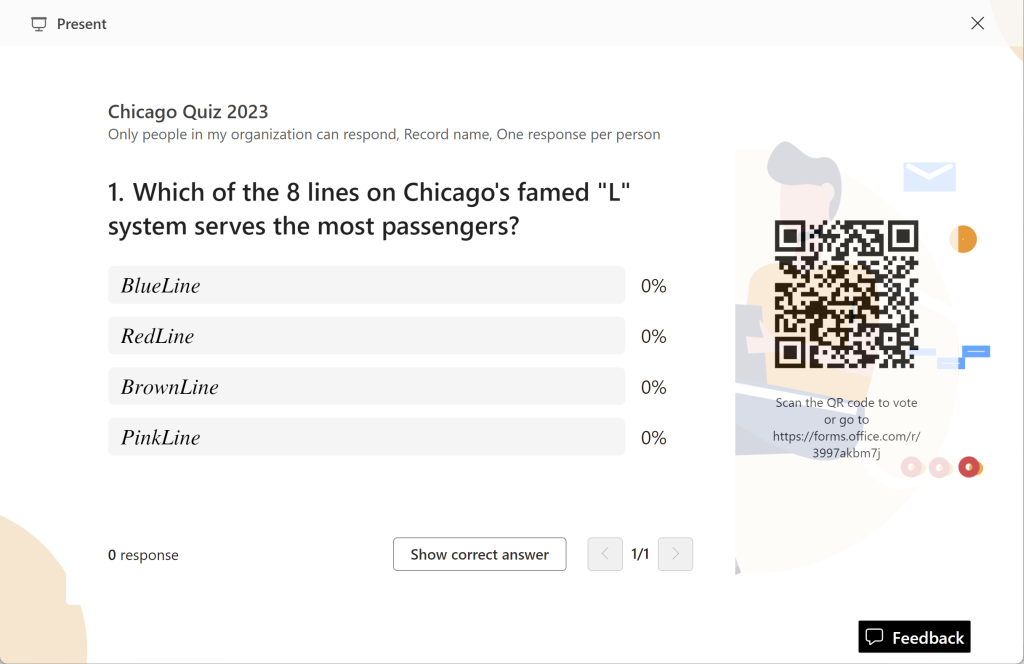 The Advantages of Microsoft Forms
Using Microsoft Forms becomes a no-brainer if you're already a Microsoft 365 subscriber. Say goodbye to shelling out extra cash for standalone survey tools like Survey Monkey.
With Forms, you can access a powerful survey solution without breaking the bank.
Forget about attachment-induced email bounces, the arduous task of manually collating results, or navigating between differently laid out pieces of software that you need to familiarize yourself with. With Forms, the process becomes a breeze. 
Recipients simply follow your link and fill out the form online; no downloads or email attachments are required. Moreover, Forms automatically compiles all your answers, streamlining your data collection process.
No more tedious number crunching. Microsoft Forms lets you grasp survey results at a glance through visually appealing graphs. Gain valuable insights and easily export the data to Excel for seamless integration into other platforms.
Dive deeper into the details by hovering over the result graphs on the intuitive "Responses" tab, bringing your data analysis to life.
Microsoft Forms is designed for a minimal learning curve. The intuitive and simple interface ensures you can jump right in and create engaging surveys.
No technical expertise is required, as Forms opens its doors to users of all backgrounds and skill levels.
How can you leverage Microsoft Forms for your SMB?
Boost your customer response rates by using web-based surveys, which you can add to automated emails. With Microsoft Forms, customers can easily complete your satisfaction survey from any device, ensuring a seamless experience. Instantly access the results and chart them to uncover invaluable insights into your business's strengths and areas for improvement.
Improve cybersecurity awareness training by integrating Microsoft Forms into your employee education efforts. Send out security awareness quizzes that align with your training program. Check out the platform's ability to track the average response time per person, offering valuable insights into your employees' security readiness.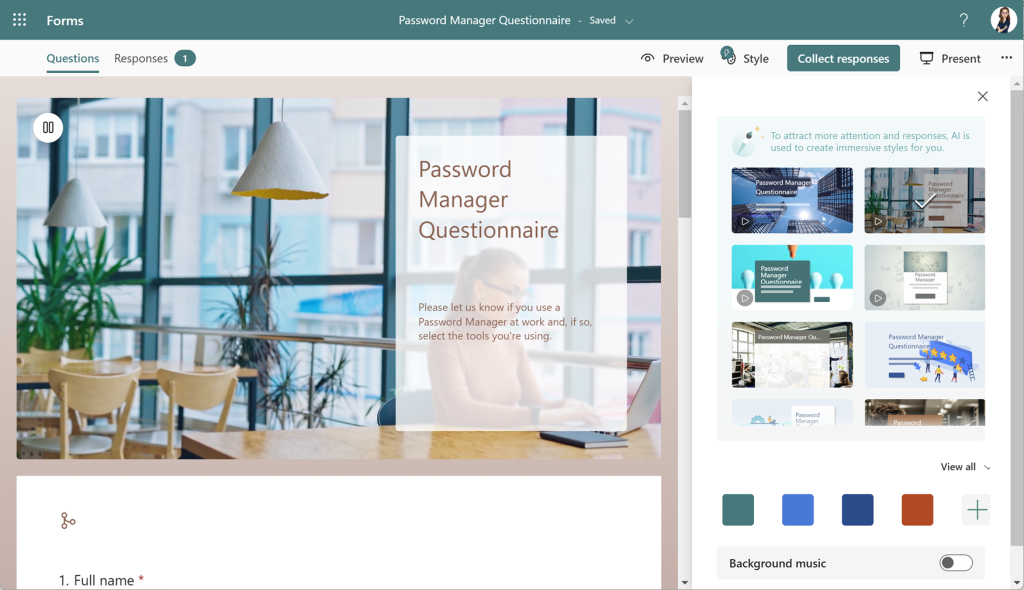 Leverage the power of Microsoft Forms to enhance user readiness for change adoption. Create and distribute change readiness surveys to affected groups, ensuring a smoother transition and greater user satisfaction.
Hosting an event? Microsoft Forms simplifies registration by allowing you to gather essential details quickly. Share a Forms link via dynamic QR codes, social media, texts, or emails, ensuring a pleasant registration experience for attendees.
Embed an MS Forms registration form on your website to streamline volunteer sign-ups. Microsoft Forms automatically collates and organizes different talents and volunteer information, facilitating the matching of skills to your organizational needs.
Check out the wealth of ideas offered within Microsoft Forms' template library. Explore all possibilities, including:
Conducting competitive analysis studies
Gathering post-event feedback
Managing office facility requests
Gauging employee satisfaction
Conducting product pricing surveys
Managing food catering requests
Creating captivating "save the date" forms
Simplifying course enrollment procedures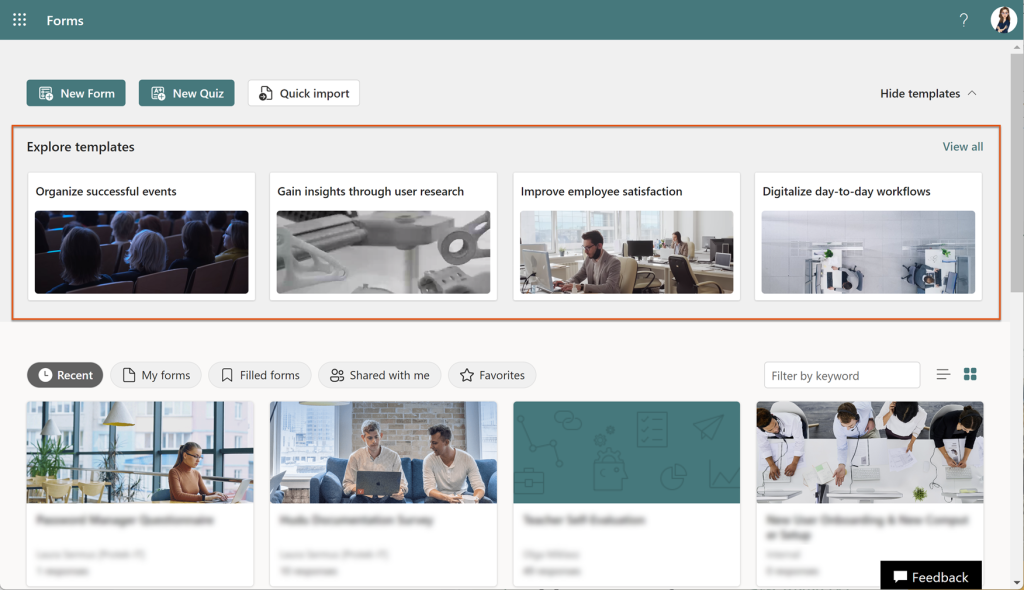 Get more out of Microsoft 365 with Protek-IT
Are you wondering if there's untapped value within your Microsoft 365 subscription? The experts at Protek-IT are passionate about setting up small business clients with Microsoft 365 and maximizing its potential. We'll guide you through every step of the process, ensuring you utilize this platform's full power.
Don't settle for leaving value on the table. Reach out today to learn more about our comprehensive Microsoft 365 support services. Let us show you how Protek-IT can help your small business thrive in the digital landscape with Microsoft 365.