The Windows 11 fall update is a bold statement of Microsoft's commitment to innovation. This update is more than your typical upgrade, marking a significant step into the future of computing. It's aptly described as "The most personal Windows 11 experience."
The introduction of Microsoft Copilot in the fall Windows 11 update is a game-changer. This AI-driven personal assistant, leveraging Bing Chat and GPT-4 AI, is designed to streamline various tasks, enhancing creativity and productivity. Among other useful features, Copilot helps summarize web pages and generate custom images. However, its initial version highlights areas for development in user experience and integration with Windows 11, signaling the future potential for a more seamless AI integration.
Revamped Applications: Paint, Snipping Tool, Clipchamp & More
Paint: Besides the Cocreator tool, Paint now includes new tools for professional-level photo editing and art creation, which allows you to manipulate images with greater control and creativity.

Snipping Tool: The Snipping Tool has been upgraded with AI capabilities for text recognition, allowing users to copy and redact text from screenshots easily.

Clipchamp: In Clipchamp, AI-driven guidance assists in video editing, suggesting scenes, edits, and narratives. The auto-compose feature, particularly useful in Clipchamp, facilitates the creation of slideshows, montages, and short videos in 1080p.

Photos App: The Photos app has been enhanced with AI to offer functions like cropping, erasing, and adjusting colors and lighting.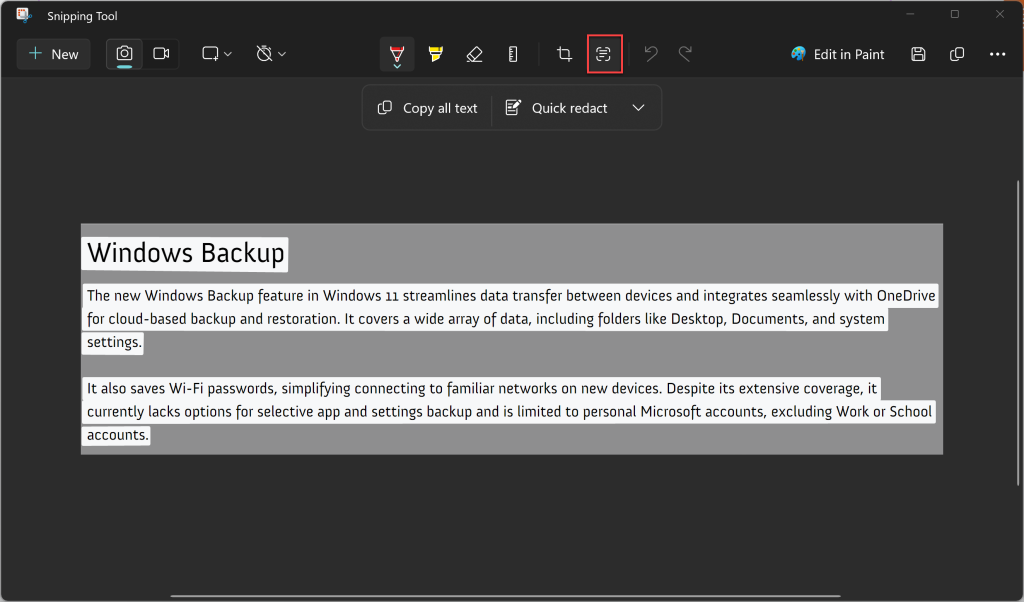 The new Windows Backup feature in Windows 11 streamlines data transfer between devices and integrates seamlessly with OneDrive for cloud-based backup and restoration. It covers a wide array of data, including folders like Desktop, Documents, and system settings. 
It also saves Wi-Fi passwords, simplifying connecting to familiar networks on new devices. Despite its extensive coverage, it currently lacks options for selective app and settings backup and is limited to personal Microsoft accounts, excluding Work or School accounts.
VPN Technology: The Edge Secure Network uses VPN technology to encrypt internet connections, obscuring user location and IP address. This ensures private browsing and safeguards against third-party access to sensitive information, making online shopping and form-filling more secure.

Automatic Activation: The feature automatically provides VPN protection when necessary, such as connecting to an open Wi-Fi network or visiting unsecured websites, enhancing user security with minimal effort.

Data Limit and Streaming Services: Users with a personal Microsoft account receive 5 GB of free VPN data protection each month. However, to conserve this data limit, content streaming sites like Netflix, Hulu, and HBO are not routed through the Secure Network VPN service.

Location Privacy: While Edge Secure Network obscures specific user locations and IP addresses for privacy, it does not allow selecting a specific region for traffic routing. This feature balances privacy with functionality, allowing access to local services without compromising personal data.
The Windows 11 Adaptive Dimming feature, part of the Presence Sensing suite in the latest update, brings several advancements:
Integration with Presence Sensing: Adaptive Dimming is included in the new "Presence sensing" section found in Settings > System > Power & battery. This feature dims the display when you look away from the screen and is part of a broader suite that includes Wake-on Approach and Lock-on Leave. It's designed to operate on devices equipped with compatible presence sensors, ensuring privacy as all processing is done locally on the device's hardware.

Energy Efficiency and User Comfort: The Content Adaptive Brightness Control (CABC), currently undergoing testing with Windows Insiders, is a part of this update. It's designed to reduce energy consumption by adjusting brightness settings for different areas of a screen based on the displayed content. This feature aims to balance reduced power consumption with an optimal visual experience, extending to laptops, 2-in-1s, and desktop PCs, even when plugged in.

Customizable Settings: Users can adjust the Adaptive Dimming feature through Settings > System > Display under "Brightness & color." It offers three options: Off, Always, and "On Battery Only". While the default setting for battery-powered devices is "On Battery Only", desktop PCs have this feature turned off by default. Microsoft encourages feedback from Insiders on the visual quality of CABC across different devices to fine-tune its performance.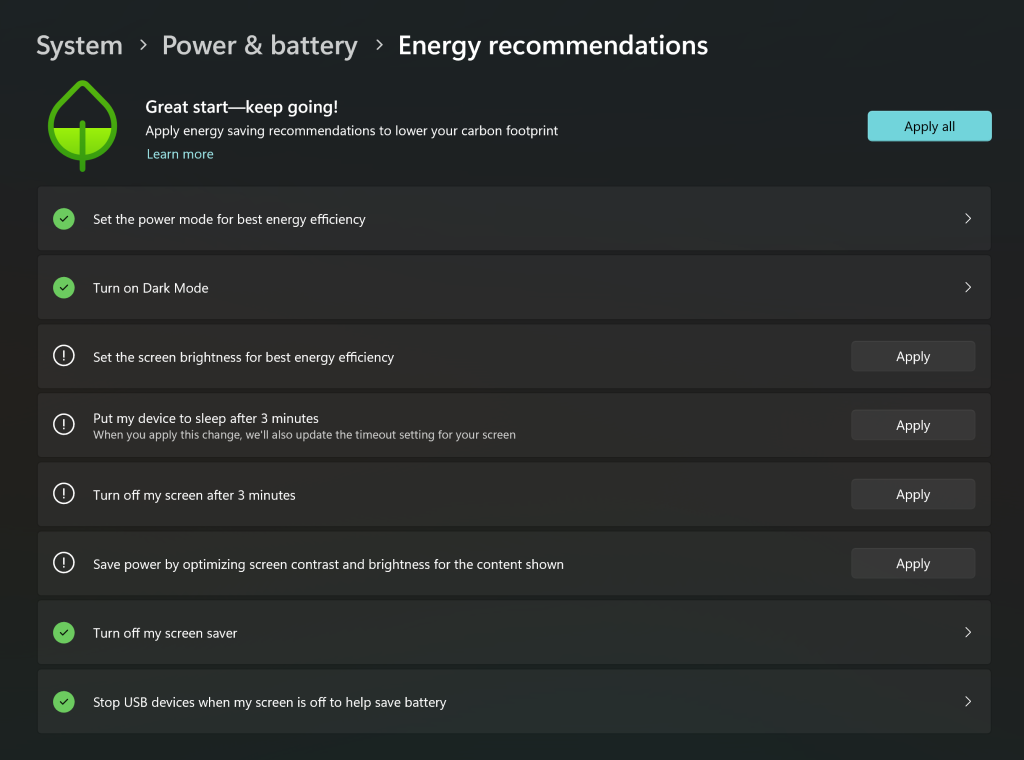 A More Intuitive and Personalized User Experience in Windows 11
Adaptive Settings: The new home page in the Settings window now brings together frequently used settings and adapts to individual usage patterns, displaying recently and frequently used settings prominently.

Enhanced Volume Control: The update introduces an easier way to control the volume of individual applications directly from the taskbar. Users can now access volume sliders for open applications via Quick Settings, streamlining audio management.

Improved File Handling: Windows 11 now supports a wider range of archive formats like 7Z, RAR, and TAR, allowing users to open these files directly in File Explorer without needing third-party applications.

Dynamic Lighting Control: A new Dynamic Lighting page has been added to the Settings, enabling users to control LED lighting on devices without needing separate applications. This feature supports a range of devices from different manufacturers, offering a unified and customizable lighting experience.
Improve Your Business with Microsoft and Protek-IT
Microsoft continues to lead in work productivity tools. If your business hasn't upgraded to the latest technologies, it's time to consider the benefits. With Protek-IT, you gain access to Microsoft 365, Windows 11, and other useful small business solutions, ensuring you can outperform competitors in your industry. 
Our Managed IT Services experts are ready to guide you through these upgrades, enabling you to gain a competitive advantage.