Microsoft has been busy developing its suite of business apps and has expanded from around seven original apps to an impressive selection of over 20. The most recent addition is Microsoft Designer, which has piqued the interest of designers, marketers, and small business owners.
The app boasts a range of features powered by AI, making it easier and faster than ever to create marketing collateral; plus, it saves you both time and money when crafting business graphics.
Curious about the key features? Let's take a peek at how Microsoft Designer can help your small business.
Microsoft Designer has an intuitive and user-friendly interface with a clean and organized workspace where distractions are minimized, allowing users to focus on their designs effortlessly. The tool has many user-friendly features, such as:
Drag-and-drop functionality
Contextual menus
Easy navigation
Helpful text prompts
Even if you're new to the design world, Microsoft Designer ensures an enjoyable experience and a low learning curve.
One of the standout features of Microsoft Designer is its collection of design templates and assets. From professional business cards to eye-catching flyers, you can quickly create an extensive array of templates. On top of that, high-quality images, icons, fonts, and color palettes help you easily create designs that align with your brand identity.
Microsoft Designer uses artificial intelligence (AI) to transform into a personal design assistant. This allows the software to discern and analyze design elements, offering intelligent layout suggestions and insightful recommendations. Use the assistant for fresh inspiration and upgrade your style easier than ever!
Microsoft Designer makes it easy for multiple users to work together on a single design project, fostering collective creativity. Sharing designs with team members or clients is just a click away, and real-time feedback and edits help the collaborative process along. 
As expected, Microsoft Designer's integration with other Microsoft Office applications, such as PowerPoint and Word, ensures a simple workflow across different design and documentation tasks, further boosting productivity!
Microsoft Designer boasts accessibility and cross-platform support, with the app available as both a web application and a desktop application and caters to users on both Windows and Mac operating systems. Plus, the software adheres to accessibility standards, ensuring people with varying abilities can navigate and engage with the design process.
For small businesses seeking an intuitive, collaborative, and feature-rich design solution, Microsoft Designer is a wonderful choice that's already available for Microsoft users.
Let's see what Microsoft Designer can do with our design idea—a sales ad for orange juice with palm trees. The AI-powered tool can generate lots of options for us in just a few seconds!
When we tried it out, we got a bunch of images to choose from. Some might not be a perfect fit, but there are plenty of good options that match our tropical theme. If you don't get exactly what you want at first, just rephrase your prompt, and it'll give you more choices.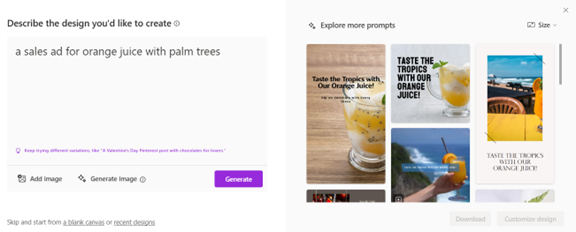 The AI portion suggests layouts and design ideas, which can be helpful when you're not sure where to start. It takes care of font pairings, image placements, and color combinations, making your ad look great without much time or effort. It even writes copy based on your prompt!
I also tried to create an image to go with this blog post, using just a simple prompt of "Blog post for introducing Microsoft Designer." Took me a whole 2 minutes, and you can see the result below!

So, whether you're dreaming up an ad for orange juice or any other project, give Microsoft Designer a try. It's a user-friendly and AI-powered design tool that brings out your creativity without any hassle. Start exploring and let your imagination take the lead!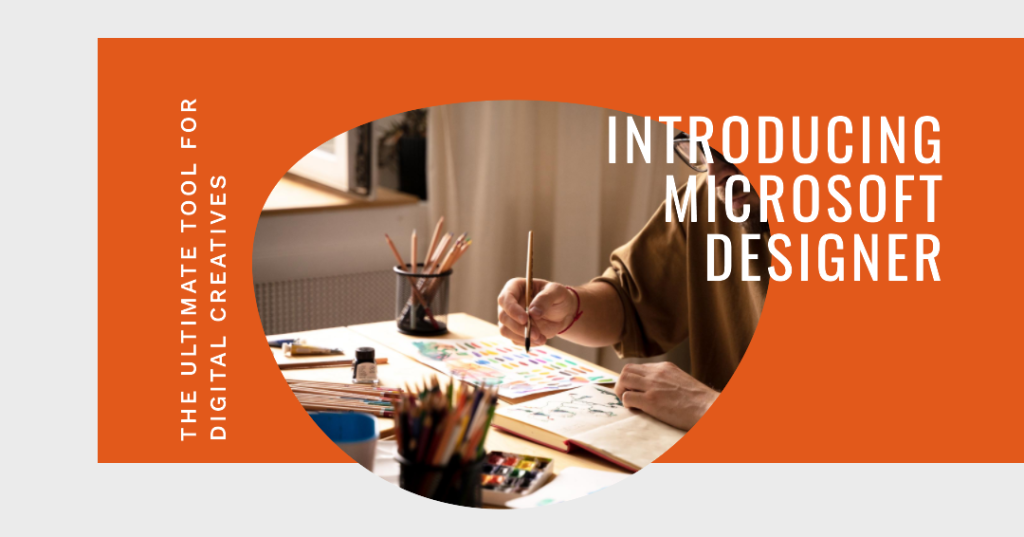 How to get started with Microsoft Designer?
You can use Microsoft Designer for free by logging in or signing up for a Microsoft account here: https://designer.microsoft.com/
We recommend setting up your brand colors so your designs will follow your brand, and you'll be EVEN faster when creating new designs.
Get more from your Microsoft 365 subscription
If you're navigating the vast universe of Microsoft 365, with its array of apps promising cost efficiency and enhanced productivity, we've got you covered.
Our team of experts at Protek-IT understands the ins and outs of Microsoft 365 like no other. Have questions about Microsoft 365? Need assistance with setup and security?
When you choose Protek-IT for Microsoft support services, you opt for excellence and dedication. We tailor our services to fit your unique needs, empowering you to leverage the full potential of Microsoft 365 for your Chicago-based business or organization.
Ready to take your IT support to the next level? Give us a call today to schedule a chat about our Microsoft support services.